The Collective Bargaining Agreement
We are in the last year of our three-year agreement. This is our fourth CBA (commonly called 'the contract'), and it made a number of changes to the prior agreement. Those changed include:

Changes to Promotions & Evaluations:
1) Provost's Office sends email to all PTF every semester reminding them of the procedures for Promotion Evaluation. 2) PTF may request evaluation for promotion beginning in first half of 5th semester in the pool (or the first half of any subsequent semester); evaluation takes place in 6th (or subsequent) semester; 3) If the requested evaluation was successful, or if the requested evaluation did not occur, promotion is automatic in the next semester the PTF teaches in the pool. 4) there will be no three-year requirement going forward, just six semesters. 5) For PTF3s only, supervisors have to follow PTF3 seniority in a pool.

Tuition Reimbursement:
A qualified PTF can receive 50% tuition reimbursement or waiver for a dependent for up to 8 credit hours in any semester that one is teaching.

Retirement:
A PTF who has completed 2 years of service who contributes less than 5% of Gross salary can participate without an employer match. An eligible PTF who contributes at least 5% of gross salary is eligible to receive an employer match of 1.5% of gross salary in the first year of the contract, a 1.75% match in the second year, and a 2% match in the third year.
READ MORE IN THE COMPLETE CBA HERE.

Performance Evaluation Policy
After our first contract, the union and the university negotiated for a consistent evaluation policy to be used across the university. This was the result of those negotiations.
Pandemic MOUs
When it became clear that our working conditions at Wayne State would be experiencing substantial changes due to the pandemic, we engaged with the administration in two rounds of impact bargaining, resulting in the following Memorandums of Understanding:

First Agreement
Second Agreement
Salary Scale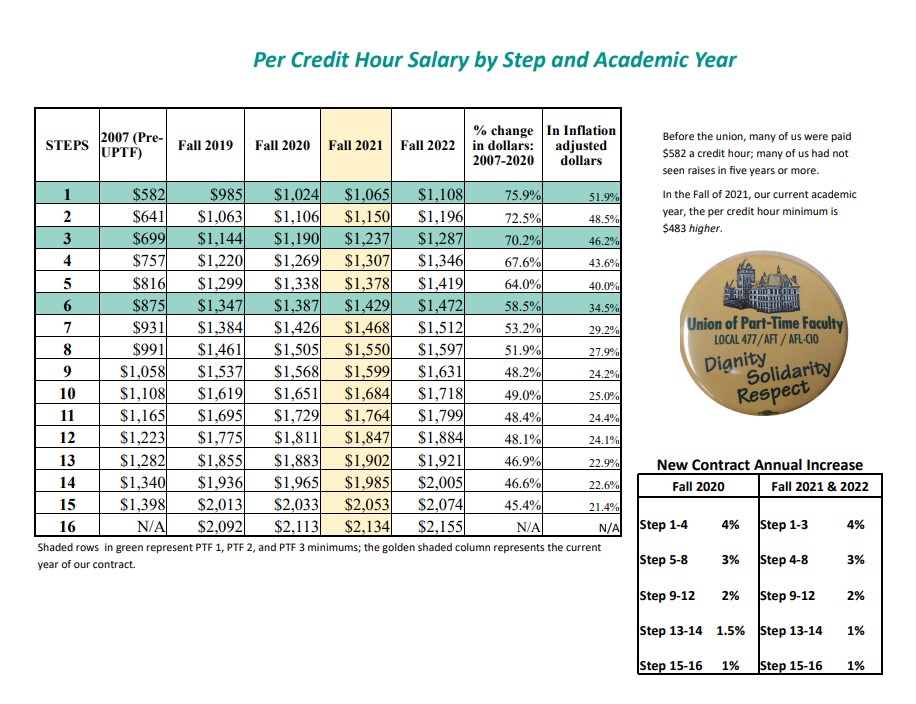 Professional Development Fund
The UPTF negotiated a Professional Development Fund in our prior contract. As per this contract, $30,000 is added to the fund each year. It is currently used for three purposes: to fund conference travel and attendance, fund research grants, and pay PTF to mentor* their colleagues. Click the links to learn more and learn how to apply for these funds.

*The mentoring program was on hold in AY 21-22; we expect to relaunch it in Fall 2022.
PTF Benefits
The UPTF has negotiated with the university for access to several benefits. They include voluntary vision and dental insurance (paid entirely by the employee); reduced tuition for a spouse, child, or Other Eligible Person; and access to the university's 403(b) Retirement Savings Plan (with a university match!). So far as we know, we are the only union representing solely part-time faculty at a university in the U.S. with a retirement match. You can read more about these benefits here.
Weingarten Rights
Always remember, if you are called to a meeting with management, read the following to management when the meeting begins.
"If this discussion could in any way lead to my being disciplined or terminated, or affect my personal working conditions, I respectfully request that my union representative, officer, or steward be present at this meeting. Without representation I choose not to answer any questions."